| | 2017 | 2016 | 2015: |
| --- | --- | --- | --- |
| Pagehits: | 518 | 99 | 0 |
| Website clicks: | 1 | 12 | 0 |
Welcome to Skyview Kennels

21 Du Toit Street, Timsrand A.H. , Centurion, City Of Tshwane, Gauteng 1057
About Us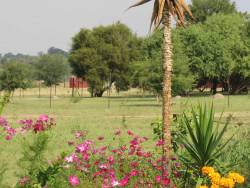 Skyview Kennels is a world-class dog kenneling facility (situated on the border of Johannesburg and Pretoria, Gauteng, South Africa) which offers superior boarding for medium term (weekly) and long term (monthly or longer) stays. There are 10 family kennel units (indoors/outdoors), each which can accommodate 2-4 small to medium sized dogs.
The kennel facility is set in the country overlooking a vast expanse of grassed plains. It is surrounded by an electric fence, armed with an alarm for maximum security.
The owner, Louise Schomburg, resides on the property and is available 24/7. Because we are a small facility, we are able to give quality time to each and every dog, loving them as our own.
Each kennel unit has its own separate grassed run, partially sheltered by overhead shade cloth. The sides are also seperated by shade cloth to ensure that there is no eye-to-eye contact between families of dogs. These runs measure 10m X 5m. The dogs are taken to their runs weather permitting, 2-3 hours in the early morning and 2-3 hours in the mid/late afternoon. All dogs are walked around the property twice a day or more often if required.

Opening Hours & Visiting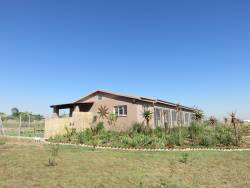 0perating and visiting hours are officially:
Mondays to Fridays: 6:30 a.m. to 10:30 a.m/15.30 to 18.30 p.m.
Weekends and public holidays: 8.30 a.m. to 10.30 a.m/16:00 p.m. to 17:00 p.m.
However, we are very flexible and welcome inspections.

Staff & Knowledge
We have 3 full-time staff working in our kennels.
Our staff ratio is:
1 Staff : 3 Kennels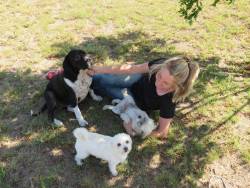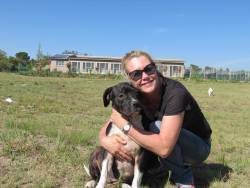 About our staff, knowledge and experience:
The kennel facility is run and managed by the owner, Louise Schomburg, a trained dog behaviourist.
Mished, from Malawi, helps with the everyday operations of the dog kennels, from cleaning to gardening and is duly assisted by Elias, from Lesotho.
Elsie, from Swaziland, assists with the supervision of the staff. Elsie holds a Certificate in Dog Training.
Our Kennels
We have
10 Kennels

with Attached runs:

Covered runs:

They were built in 2016 and are licensed for anything up to 30 dogs (maximum).


We're proudto say we have a maximum of 10 kennels in any one building.
(The ideal is a maximum of 20 kennels in a building, as the less dogs, the calmer & quieter it is)




We're proud to say we have a maximum of 10 kennels in any section of any building.
(The ideal is a maximum of 10 kennels per section)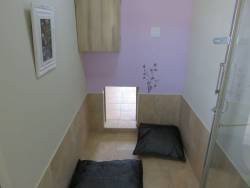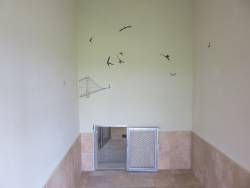 TOTAL 10 KENNEL SUITES

No. Sleeping (m) Dayime section (m)

5 X 2.24 X 1.46 3.28 X 1.46
4 X 2.24 X 1.95 3.28 X 1.95
1 X 1.75 X 1.95 2.82 X 1.95
About our Kennels
The kennel building is north-east facing. The kennel units are bright, light and spacious; the atmosphere is quiet, calm and relaxed. Each kennel unit has two sections connected by an inter-leading wall-gate. The sleeping section is draft-free and cozy. The daytime section is raised and covered, overlooking a large stretch of countryside. The dogs have access to both sections during the day and night.

All kennels units are properly ventilated, warm in winter and cool in summer, odour- and insect free. A passage runs parallel on each side of the kennel unit, so the dogs are visible at all times to the staff, which ensures that the dogs are not secluded. The kennel units are protected from the rain, and if required, each kennel unit has its own lapa blind which can be lowered and tied down in thunderstorms and freezing weather to ensure ultimate protection.

Each kennel unit has its own external grassed run.

Dog Exercise & Play:
Dogs get out of their Kennels for exercise:

We're proud to say dogs DO get out of their kennels here.
We know how important it is (mentally and physically) for dogs to play, sniff, run around and stretch their legs.
In other words, for dogs to be dogs!


About dog exercise with our Boarding Kennels: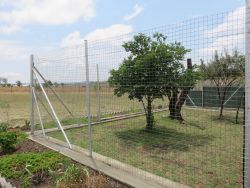 The kennel facilities are situated on a large property/small holding. Each dog is walked around the perimeter with a lead and a harness for 10 -15 minutes at a time, twice a day and more often, if required. We encourage the dogs to do their toiletries during these periods (if they want to!).
The dogs are also taken to their external grassed runs 2-3 hours a day in the early morning and 2-3 hours in the late afternoon, weather dependent. These runs each measure 10m X 5m and are securely fenced in. All dogs are supervised whilst in the runs.
We also play with the dogs in these outdoor runs, as per the dog's needs, e.g. throwing the ball-on-a-rope, tug-of-war.

Dog Walks/Exercise/Playtime with Staff:
Dogs exercised by staff:
25 minutes

of walks/exercise with staff provided daily

We're proud to say we offer walks/ exercise/ playtime WITH staff.
We know how important it is for dogs to have our company one-to-one.
It's much more fun!


About dog walks/playtime with staff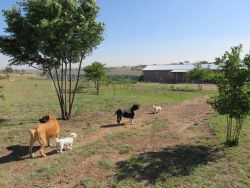 As the kennel property is securely fenced, we prefer to allow the dogs to run free, enjoying maximum benefits of space. Otherwise we walk/jog around the perimeter fence, with the dog on a lead and harness.
Dog Care
Welfare & Settling In
| | |
| --- | --- |
| Comfort items from home allowed: | DAP Therapy used: |
| We're proud to say we DO allow & encourage comfort items for dogs. We understand how important it is to help your dog relax and feel settled quickly, more at home with us. This is such an easy way to comfort your dog. After all, we all love our home comforts don't we?! | |
Our policy on comfort items: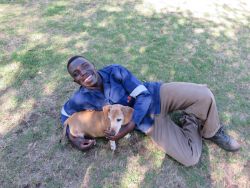 Comfort items allowed:
Dog's bedding and basket. Don't worry if this looks frazzled. The dog likes it!
Items of clothing that bears your scent. e.g. worn socks, tracksuites, jersey.
Favourite toys.
Chewy bits and pieces e.g. Beeno biscuits, mini dog rolls, ostrich bones, biltong sticks/chunks.
Brush/comb. Touch is very important.
Own lead and harness. Walking reduces stress.
We play soft music too!

---
Diet
Will you feed the same diet as at home:

We're proud to say we DO offer to feed your dog the same diet as at home.
We understand how important it is to help your dog settle in quickly and easily without any digestive problems that would be caused with a change of diet.

Will you feed special/prescription diets:

Will feed natural/organic diets:
---
Caring for Dogs
Care of Easy-going & Steady Dogs
Care for easy and steady-going dogs includes:
Lots of routine, exercise and plenty of human interaction.
Time out in the runs, twice a day for 2-3 hours, weather permitting.
Playing, chasing, throwing toys.
We treat all our dogs as special customers. Each dog's needs is individually assessed and taken care of accordingly.
---
Care of Active Dogs
---
Care of Daycare/creche Dogs
---
Dogs with Special Needs
Separate, quiet section available:
About our care of special needs dogs: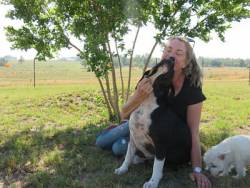 We will consult with the dog owner and if necessary, the local vet, to determine and provide the special care required for a specific dog. Being a small kennel facility, we are able to check up on the dog regularly. We will do all things necessary to ensure that the dog is properly taken care of, further that the dog is relaxed and comfortable at all times.
Age considerations:
| | |
| --- | --- |
| Puppies | |
| Senior Dogs | |
| Elderly Dogs | |

We care for dogs with:
| | | | | |
| --- | --- | --- | --- | --- |
| Allergies/ Allergenic | | | Digestive Problems | |
| Arthritis/ Arthritic | | | Disabilities | |
| Blindness | | | Heart Disease | |
| Convulsions/ Seizures/ Epilepsy | | | Kidney Disease | |
| Deafness | | | Nervous/ Sensitive/ Separation anxiety | |
| Diabetes/Diabetic | | | Skin Problems | |
Services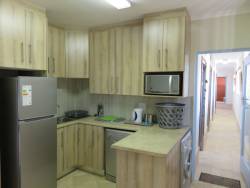 Daily services include the following:
Preparation of food and supervised feeding (2 X daily);
Sweeping and washing of kennel unit;
Washing of dog's bedding and/or belongings (if necessary);
Administration of medicine (if required);
Brushing and petting;
Travel to and from the vet (if required);
Special care for "special needs" dogs;
Walking the dogs on the property.

| Services for Dogs: | Other Services: |
| --- | --- |
| Collect & Return, or Dog Chauffeur Service | Pet Supplies |
| Grooming Service (professional option, full bath & cut) | Cattery (Cat Boarding) |
| Hydrotherapy | Small Animals Boarding |
| Webcam Service | Stables |
| Send updates while you're away | |
1 Guests
Guests Gallery
---

19th Oct 2016




Popcorn

Popcorn was a little sausage dog of 3 months. Within a day he had adapted from townhouse living to large spaces, running around and chasing birds. After 10 days his small fragile frame became strong and stable. It was not only a holiday but a holistic health experience. He changed from a shy timid dog to a confident, bubbly one.

---
1 News Articles
Latest News
---

3rd Nov 2016


Animal Talk Magazine August 2016 - Your Guide To Responsible Pet Ownership

My first day at the boarding kennels - a dog's perspective.

~~~~~ CLICK HERE to read this article as a PDF ~~~~~~~
(opens in a new window)

I'm pretty old by dog standards, and I am arthritic. My owners have been packing their musty leather bags, and I am getting very anxious. Jane, who loves me very much, bundles me into the car and off we go. We drive out into the country, pass through the blue gums, and finally stop.

A smiling young man opens the black metal gate, and we travel up a short, dusty road to a building. It is quiet. Jane puts on my orange lead and I drag myself off the springy back seat onto the hard stony soil. I look around. I don't know where I am, but it is peaceful and pretty.

A strange woman pops out from the little flower garden and waves. She bends down to pat me. I can smell other dogs on her, but I can't see or hear any.

Jane leads me to the wooden front door and we climb up a step. We walk through a tidy office and down a beige tiled corridor. The strange lady entices me with a piece of Wors and shuts a glass door between us. I guzzle it down. She watches me for a moment or two, and then I hear her walking away.

I find myself in a cosy, airy room with a big soft black mattress to lie on. I need to investigate. I sniff around. I see sunshine on the other side. I limp through the opening and find myself in a bigger room that overlooks a vast stretch of golden veld. There are grey and blue mountains in the distance. For whatever reason, I am not scared. The wind chimes are tinkling int he breeze and the radio is playing.

I hear Jane's car drive off. I realise that I have been left behind and I am a little puzzled. Moments later, the man with the smiling face encourages me down an outside passage. I find a large fenced-in run all for myself. It has dark green shade cloth on two sides, with a blue triangle semi-cover overhead for shade and lots of short apple-green grass. Next to the silver gate is a large bowl of fresh water. I lap it up.

The smiling man then disappears. I can hear other dogs messing around next to me; they are happy. Suddenly there is a bit of an uproar. The smiling man reappears after a few minutes with a bowl full of biscuits covered in yoghurt. I scoff them down. There is quiet as all the other dogs busy themselves in their bowls too. The weather is fine; I sleep a little. The journey was long.

I am woken up by the strange lady. She talks to me in a kind, soft voice and sits next to me on the lawn. I roll over for a tummy tickle and she obliges. I think I quite like this place, but I am wondering about Jane. Will she come to fetch me and if so, when? I look out of my run enclosure. I see cars and trucks passing on the highway and hear the swishing of tyres against the hot tarmac.

As the sun rises higher in the sky, I am taken back to my day room. A thick grey blanket has been laid out on the floor, which is scattered with some chews, and I stretch out. I listen to some more music and I'm out for the rest of the day.

Later, the smiling man takes me for a walk around the property. I sniff lots of interesting new smells on the way. He waits patiently for me to do my business, and cleans up behind me. The smiling man takes me back to my day room. He surprises me with my brush and gives me a bit of a rub-down. It's back to the run again, and I hear the excited uproar of my companions. Feeding time descends on us. I peer into my bowl. It is my food from home!
I feel relaxed at last.

The orange sun starts to set, and a cool breeze rises. It's back to the building yet again, and I flop down in the sleeping area on the big mattress, which is now covered with my checked fluffy blanket, and my things surround me. I am missing Jane. I lie on her jersey and savour her odour, which comforts me.

I have had a great day. There was no noise or any frightening disturbances. It's dark now and some humans are doing the rounds, checking to see that we are all snuggled up. The lights are turned off and I hear the squeaking noise of the alarm being activated. I am content to know that if each day is like this, I can stay a while. I am safe and fall soundly asleep. The next morning I wake up in my new environment, looking forward to being here today!

Text: Louise Schomburg, Skyview Kennels

---
0 Customer Testimonials
Customer Testimonials
Fees
Fees are per dog, per day (includes any tax)
480.00 for a Small Dog
620.00 for a Medium Dog
0.00 for a Large Dog
0.00 for a Giant Dog
Further Information
We offer 2 sizes of kennel units: medium (ZAR350.00) and large (ZAR450.00) from 12:00 p.m. to 10:00 a.m. the following day. The price includes the exclusive use of a separate external outdoor grassed run.
We can accommodate comfortably 2 small dogs and a medium sized dog or 2 medium sized dogs in a large kennel unit and 1 medium size dog or 3 small dogs in a medium sized kennel unit. At the time of booking the size kennel will be assessed as the duration of stay will be also taken into consideration.
In addition, a daily service fee is applicable for each dog boarding: ZAR65.00 for a small dog and ZAR85.00 for a medium sized dog inclusive of day of arrival and day of departure.
e.g. The total charge for 1 day/night for a small dog and a medium sized dog boarding in a medium size kennel unit is as follows: ZAR350.00 + ZAR65.00 (day of arrival) + ZAR65.00 (day of departure) + RZAR85.00 (day of arrival) + ZAR85.00 (day of departure) = ZAR650.00.
Payment for the total boarding period must be made upfront, which confirms your booking. We do not reimburse moneys paid in the event of a cancelation (or part thereof).
Prices are subject to change. All amounts are inclusive of South African VAT.
We offer a 10% discount on the kennel unit charge for long term bookings (i.e. month or longer).
Book-in time is from 12:00 p.m. and check-out time is before 10:00 a.m.
We prefer dog owners to adhere to the official operating hours; however, there is no extra charge for arrivals or departures outside these times.
A 30% mark-up is charged for all additional items and services rendered e.g. vet bills, toys and treats purchased, wash and groom (if necessary), dog-eaten bedding and so on.
Map, Directions, and Driving Distance & Time
Skyview Kennels Boarding Kennels,
21 Du Toit Street, Timsrand A.H. , Centurion, City Of Tshwane, Gauteng 1057
Directions
Kennel Facility address: Plot 21 Timsrand A.H., Centurion (Google: 44 du Toit Street, Timsrand A.H., Centurion). It is centrally situated close to Lanseria International Airport. It borders JHB and Centurion (City of Tshwane) (off Summit Road (R562)) and is situated in between Blue Hills and Diepsloot.
From Midrand:
Travel along Olifantsfontein Road (R562) which becomes Summit Road (R562). At Olifantsfontein Road/Lever Road intersection, cross over and continue straight. Cross over Summit Road/Main Road (R55) intersection and continue straight. Pass the garage on your right and the the cafe/bottle store on your left. Turn right into Knoppieslaagte Road at Mnandi Road/Summit Road intersection and then first left into du Toit Street.
From Centurion:
Take the N14 Sandton/ Hartebeesport off-ramp, cross over the traffic lights at William Nicol/Summit Road intersection, travel straight up the hill and pass 3 roads on your left hand side. Next road turn left into Knoppieslaagte Road at Mnandi Road/Summit Road intersection and then first left into du Toit Street.
From Sandton:
Travel along the William Nicol past Riversands towards Diepsloot, turn right into Mnandi Road. Travel all the way up the hill till you reach Summit Road (R562). Cross over into Knoppieslaagte Road at the Mnandi Road/Summit Road intersection and then first left into du Toit Street.
Once you have turned into du Toit Street, travel down the hill till you reach the yellow gate crossing the road and immediately turn right into the private road. Travel a short distance till you reach the first entrance on your left. Please call at the gate which will only be opened on an appointment basis.
Contact
Bookings, Queries & Appointments
Louise will be happy to discuss your queries about Skyview Kennels Boarding Kennels including bookings, availability, and making an appointment to visit.

Visit our website:

www.skyviewkennels.co.za

Phone Louise Schomburg
on +27 84 550 7658

Please tell us you found us on BoardingKennels.org