| | 2017 | 2016 | 2015: |
| --- | --- | --- | --- |
| Pagehits: | 3830 | 3370 | 2315 |
| Website clicks: | 1 | 308 | 654 |
Welcome to The Canine Country Club

Youlstone, Bude, Cornwall EX23 9PT
About Us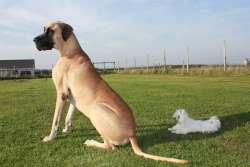 WEEKLY COLLECTION & DELIVERY SERVICE TO LONDON, BRISTOL & HAMPSHIRE.
The country's only purpose built luxury dog hotel.
Professionally designed and family run for a personal service.
Each guest has a large double roomed suite, big enough to house families of up to six dogs, with underfloor heating, piped music and a choice of soft furnishings. Everday is filled with new and exciting walks and activities designed to stimulate and fulfill the most inquisitve of bodies and minds.
Leads are not required as our acres of beautiful countryside are securely fenced for long walks with peace of mind. All the dogs, from the very old to the very young love to be out in the fresh sea air, so whether it is chasing the swallows around the fields,learning new tricks on the agiltity course or just having a quiet amble around and watching the world go by, we guarantee that all our guests will have a wonderful, fulfilling holiday of their own.
Our aim is to provide an exemplary service, highlighting a fun individual routine for each dog in our care.
Please feel free to phone for an informal chat about your dogs indivdual needs

Opening Hours & Visiting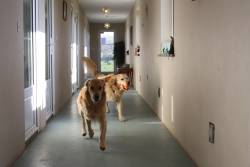 Monday - Saturday anytime between 9am and 5pm.
Sundays anytime between 9am - 1pm.
Please note we are closed Sunday afternoons.

Staff & Knowledge
We have 4 full-time staff working in our kennels.
Our staff ratio is:
1 Staff : 4 Rooms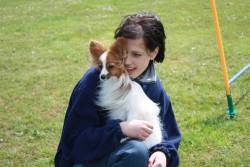 About our staff, knowledge and experience:
We are recommended and used by veterinary surgeons and veterinary nurses from all over the country.
Our Rooms
We have
15 Rooms

with Attached runs:

Covered runs:

They were built in 2007 and are licensed for anything up to 35 dogs (maximum).


We're proudto say we have a maximum of 15 kennels in any one building.
(The ideal is a maximum of 20 kennels in a building, as the less dogs, the calmer & quieter it is)




We're proud to say we have a maximum of 10 kennels in any section of any building.
(The ideal is a maximum of 10 kennels per section)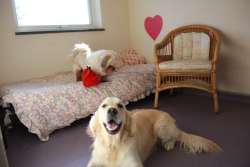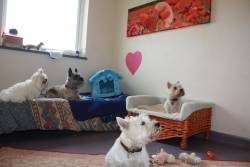 Our suites are the largest and lightest in the country. The dogs have stunning views from their conservatory rooms, first to our tranquil garden with duck pond and wild birds and beyond to our donkey meadow, where they can watch with delight our 4 pet donkeys playing.
EXECUTIVE SUITE
12ft by 8ft Bedroom with underfloor heating, plus a 12 ft by 14 ft Garden Room to watch the world go by in.
PENTHOUSE SUITES
10ft by 8ft Bedrooms and 10ft by 14ft Garden rooms.
CLUBHOUSE SUITES
8ft by 8ft Bedrooms, plus 8ft by 14ft Garden rooms.
All suites have underfloor heating on a vital 70/30 split to ensure that although the air temperature remains warm, the dogs have a cool spot to lay on if they choose.
All the suites have fantastic views to keep the dogs stimulated between their walks and play sessions. We would much rather the dogs had an ever changing view with exciting visual stimulation than use televisions in their suites.
There is background music playing throughout the day.
About our Rooms
We never found a boarding kennels that was good enough for our own precious dogs, which is where the idea was born to build one that we would be happy with.
Although our suites are the largest in the country, our aim was not to beat anyone else on size, just provide what we knew to be the right amount of space that our future guests would be happy in. Our suites comfortably house families of large dogs together. Our smaller guests rooms are usually filled with a variety of soft furnishings so that they don't look too lost, one couple arrived with 7 different beds for their little Westie who adored his holiday from start to finish.
There is nothing better than walking around at night and seeing the guests happy and settled and dreaming about the adventures tomorrow will bring.

Dog Exercise & Play:
Dogs get out of their Rooms for exercise:

We're proud to say dogs DO get out of their kennels here.
We know how important it is (mentally and physically) for dogs to play, sniff, run around and stretch their legs.
In other words, for dogs to be dogs!


About dog exercise with our Dog Hotel: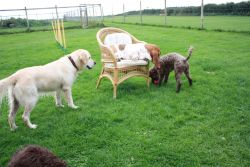 We provide tailor-made activities to suit your dog so that they are happier, have lots of fun, with plenty of things to do and watch, and gentle or busy play times to suit their particular needs.

This is important so your dog will be more contented, more relaxed and so thorougly enjoy their stay with us.

With owners permission dogs are walked off lead in our securely fenced parkland. We will also mix sociable dogs (with owners permission) who love fun and games with other like minded individuals. We find that the dogs love having friends to play with when they are outside.

The dogs are all exercised 4 times a day, because of this they do not soil 'their space' inside as dogs are not intentionally dirty and we would much rather be ouside playing with your dog than inside clearing up mess! Additional activities include: tennis, frisbee & football (dog rules apply!) in outside exercise areas or in our playbarn.

Agility-fun course for all sizes and abilities, including large tunnel of tractor tyres known as The Warren!

Small hills made in the exercise areas for playing on, behind and around, or just to lay on top of to maximise the fantastic view!

Dog Walks/Exercise/Playtime with Staff:
Dogs exercised by staff:
120 minutes

of walks/exercise with staff provided daily

We're proud to say we offer walks/ exercise/ playtime WITH staff.
We know how important it is for dogs to have our company one-to-one.
It's much more fun!


About dog walks/playtime with staff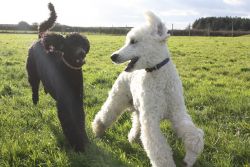 We have access to a large woodland at the end of our drive, plus hundreds of acres of countryside walks all around us. The dogs walks are varied to ensure that they are never bored.
Dog Care
Welfare & Settling In
| | |
| --- | --- |
| Comfort items from home allowed: | DAP Therapy used: |
| We're proud to say we DO allow & encourage comfort items for dogs. We understand how important it is to help your dog relax and feel settled quickly, more at home with us. This is such an easy way to comfort your dog. After all, we all love our home comforts don't we?! | We're proud to say we DO offer D.A.P therapy here to calm and reassure dogs. We believe in doing as much as possible to help your dogs have a happy stay with us, especially when such great, positive benefits to dog welfare can be provided so easily and simply. |
Our policy on comfort items: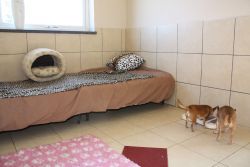 We encourage owners to bring their dogs personal belongings as this really helps them to settle. It is lovely to walk into each individual bedroom and see the dogs with all their familiar bits around them

Items are kept with your dog or in it's room at all times and are not shared with the other guests.

If your dog is used to having a treat at certain times of the day or evening, we will keep this up during their stay with us, this has included making toast for a mid-afternoon snack in the past!!

---
Diet
Will you feed the same diet as at home:

We're proud to say we DO offer to feed your dog the same diet as at home.
We understand how important it is to help your dog settle in quickly and easily without any digestive problems that would be caused with a change of diet.

Will you feed special/prescription diets:

Will feed natural/organic diets:
---
Caring for Dogs
Care of Easy-going & Steady Dogs
Our easy going and older dogs are welcome to have a list of more gentle activites designed for them.

All our guests who are worried or just prefer an easier life are welcome to come in and manage the phones and have some quality TLC!

We have a number of elderly guests who have never been away from home before and know how to settle them in and make their stay an enjoyable experience.
---
Care of Active Dogs
All our guests have a list of activities to keep them occupied during the day. These include off lead walking & agility.

We have tunnels made out of giant tractor tyres that have been buried in the outside play areas with hills and sand areas.

We also use lots of fun toys such as bacon flavoured bubble machines, kongs filled with frozen gravy & treats and babbling balls which make various animal noises when played with!

We also have a large play barn with a sand base for when it is too wet or too hot to be outside.
---
Care of Daycare/creche Dogs
All our day creche dogs are treated in exactly the same way as our full time boarders and will have a range of activities suitable for each dogs individual needs.
---
Dogs with Special Needs
Separate, quiet section available:
About our care of special needs dogs: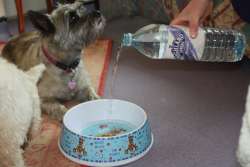 We are more than happy to care for any dogs with a special needs and have personal experience in doing this.
Each dog is assessed and cared for individually.
We are experienced in administrating most types of medication, this includes injecting and testing urine samples from diabetic dogs and monitoring epileptics with the correct dose of medication.
Because we only have a limited number of rooms, we are able to spend quality time with all our dogs and to give them all the care and attention they need.
Age considerations:
| | |
| --- | --- |
| Puppies | |
| Senior Dogs | |
| Elderly Dogs | |

We care for dogs with:
| | | | | |
| --- | --- | --- | --- | --- |
| Allergies/ Allergenic | | | Digestive Problems | |
| Arthritis/ Arthritic | | | Disabilities | |
| Blindness | | | Heart Disease | |
| Convulsions/ Seizures/ Epilepsy | | | Kidney Disease | |
| Deafness | | | Nervous/ Sensitive/ Separation anxiety | |
| Diabetes/Diabetic | | | Skin Problems | |
Services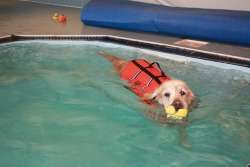 We have a hydrotherapy pool which is open to both guests and non-guests.
We also have a very experienced groomer who can be booked to come whilst your dog is with us. She is very kind with each dog and does an excellent job.
We also have a large shower for cleaning off our mud lovers and a very effective doggy hair dryer to keep them warm.

| Services for Dogs: | Other Services: |
| --- | --- |
| Collect & Return, or Dog Chauffeur Service | Pet Supplies |
| Grooming Service (professional option, full bath & cut) | Cattery (Cat Boarding) |
| Hydrotherapy | Small Animals Boarding |
| Webcam Service | Stables |
| Send updates while you're away | |
Fees
Fees are per dog, per day (includes any tax)
24.00 for a Small Dog
24.00 for a Medium Dog
24.00 for a Large Dog
24.00 for a Giant Dog
Further Information
Each additional dog, from the same family, which shares the room will be £12 per day.
Map, Directions, and Driving Distance & Time
The Canine Country Club Boarding Kennels,
Youlstone, Bude, Cornwall EX23 9PT
Directions