| | 2019 | 2018 |
| --- | --- | --- |
| Views: | 1468 | 1937 |
| Website: | 401 | 569 |
Welcome to Park Kennels

Andersey Farm, Grove Park Drive, Lockinge, Wantage, Oxfordshire OX12 8SG
About Us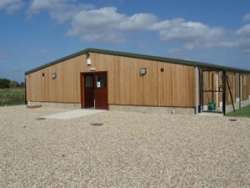 Our kennels have been described as "the most beautiful kennels in the country" by leading experts in kennel design. Our original idea was to create a kennel that had very few bars and that looked like rooms, after all why should you be the only one to stay in a luxury hotel when holiday time comes around!

We enlisted the help of David Key, a leading expert, and are delighted with the result.They are 7ft by 15 ft in total space, divided into sleep and exercise area. All our dogs are given a dog hammock and toys and bedding from home are brought to decorate their "room". Dogs have access to both areas at all times of day and night. The sleep areas have underfloor heating and the exercise runs are fully covered, with full height block work, decorated in bright colours with a specially designed glass door which opens out onto a large, bright central corridor. A calming radio plays in the stunning central corridor, which is decorated with bright pictures and has lots of large plants.

The kennel design gives all our dogs plenty of areas of privacy and this all helps to eliminate stress.We have 2 kennel buildings with just 20 kennels in each very large building. Our second building was completed last summer as our service proved to be very popular.

Staff to boarder ratio is high, the dogs all receive a morning and afternoon walk on our 57 acres of stunning farmland and are also individually exercised twice daily in a grassy paddock.

Opening Hours & Visiting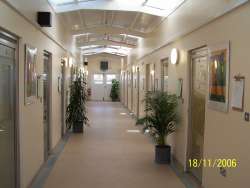 Please telephone to arrange an appointment prior to visiting.

Staff & Knowledge
We have 6 full-time staff working in our kennels.
Our staff ratio is:
1 Staff : 7 Kennels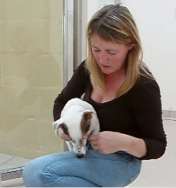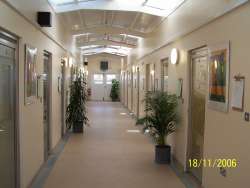 About our staff, knowledge and experience:
We have worked with animals for over 25 years and our staff have training ranging from degrees in Physiology and Zoology, Agriculture, First Aid Certificates in animal care, to NVQ's in Animal Care.
Our Kennels
We have
40 Kennels

with Attached runs:

Covered runs:

They were built in 2006 and are licensed for anything up to 80 dogs (maximum).


We're proudto say we have a maximum of 20 kennels in any one building.
(The ideal is a maximum of 20 kennels in a building, as the less dogs, the calmer & quieter it is)




We're proud to say we have a maximum of 10 kennels in any section of any building.
(The ideal is a maximum of 10 kennels per section)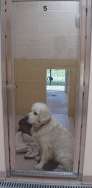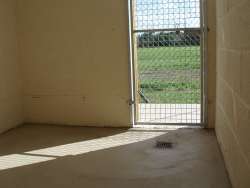 About our Kennels

Dog Exercise & Play:
Dogs get out of their Kennels for exercise:

We're proud to say dogs DO get out of their kennels here.
We know how important it is (mentally and physically) for dogs to play, sniff, run around and stretch their legs.
In other words, for dogs to be dogs!


About dog exercise with our Boarding Kennels: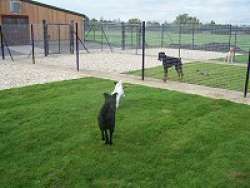 Our dogs are all taken individually to a grassy paddock first thing in the morning, before their breakfast. After breakfast each dog receives a morning walk and have another slightly longer farm walk after lunch. Some dogs may prefer ball games in a paddock, which we happily provide, but generally most dogs are very excited to see the wildlife in our hedgerows not to mention the sighting of the odd sheep or two in our fields! When all of the dogs have been fed at the end of the day they each enjoy another play in our grassy paddocks.

Dog Walks/Exercise/Playtime with Staff:
Dogs exercised by staff:
60 minutes

of walks/exercise with staff provided daily

We're proud to say we offer walks/ exercise/ playtime WITH staff.
We know how important it is for dogs to have our company one-to-one.
It's much more fun!


About dog walks/playtime with staff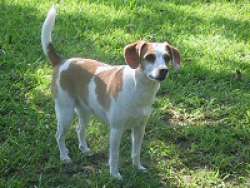 Dog Care
Welfare & Settling In
| | |
| --- | --- |
| Comfort items from home allowed: | DAP Therapy used: |
| We're proud to say we DO allow & encourage comfort items for dogs. We understand how important it is to help your dog relax and feel settled quickly, more at home with us. This is such an easy way to comfort your dog. After all, we all love our home comforts don't we?! | We're proud to say we DO offer D.A.P therapy here to calm and reassure dogs. We believe in doing as much as possible to help your dogs have a happy stay with us, especially when such great, positive benefits to dog welfare can be provided so easily and simply. |
Our policy on comfort items:

We encourage you to bring in items for your dog that smell of home. This will help your dog to settle quickly and comfortably.

---
Diet
Will you feed the same diet as at home:

We're proud to say we DO offer to feed your dog the same diet as at home.
We understand how important it is to help your dog settle in quickly and easily without any digestive problems that would be caused with a change of diet.

Will you feed special/prescription diets:

Will feed natural/organic diets:
---
Caring for Dogs
Care of Easy-going & Steady Dogs
We are very proud of our excellent Kennel design and this certainly helps to eliminate the stresses often associated with kennel stays. Our staff have plenty of time for bonding with individual dogs during farm walks, exercise sessions and grooming times, this all leads to your dog having a very happy holiday on our farm.
---
Care of Active Dogs
Dogs have access to individual agility play area and farm walks.
---
Care of Daycare/creche Dogs
---
Dogs with Special Needs
Separate, quiet section available:
About our care of special needs dogs: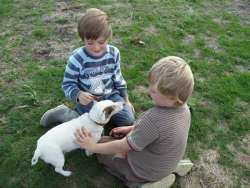 Detailed questionnaire and discussions with the owner and if necessary their vet.
Age considerations:
| | |
| --- | --- |
| Puppies | |
| Senior Dogs | |
| Elderly Dogs | |

We care for dogs with:
| | | | | |
| --- | --- | --- | --- | --- |
| Allergies/ Allergenic | | | Digestive Problems | |
| Arthritis/ Arthritic | | | Disabilities | |
| Blindness | | | Heart Disease | |
| Convulsions/ Seizures/ Epilepsy | | | Kidney Disease | |
| Deafness | | | Nervous/ Sensitive/ Separation anxiety | |
| Diabetes/Diabetic | | | Skin Problems | |
Services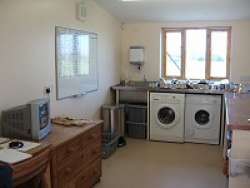 | Services for Dogs: | Other Services: |
| --- | --- |
| Collect & Return, or Dog Chauffeur Service | Pet Supplies |
| Grooming Service (professional option, full bath & cut) | Cattery (Cat Boarding) |
| Hydrotherapy | Small Animals Boarding |
| Webcam Service | Stables |
| Send updates while you're away | |
1 News Articles
Latest News
---

23rd Nov 2008


Award-Winning Kennels says BoardingKennels.org

We have won the prestigious crown award from Boardingkennels.org for dog boarding excellence!

---
6 Customer Testimonials
Customer Testimonials
Some of the things our customers love us for...
11th May 2012

by Anthony Wrigley, Oxfordshire



More Than A Kennel

Jan & Rob Beamont at Park Kennels Wantage run more than a kennel. Their dedication and professionalism in looking after the animals under their care goes way beyond anything we have ever experienced from other boarding kennels and we have had dogs for 35 years. We left our 3 dogs - 2 young Golden Retrievers and an aged 11 year old Great Dane 'Lottie' for quite an extended stay when we went to Thailand at the beginning of this year. Our first time with Park Kennels, we chose them because of the quality of the kennels they have built - all indoor, heated, beautifully clean, open to view (rare) and with access to an outdoor run. But on top of this and importantly they provide each dog with 2 individual daily walks around the huge fields they have as part of their farm. This gives each animal access to the all important human interaction and attention as well as the exercise - a huge difference to just letting a group of dogs run together in an exercise area like most kennels. We were impressed with this philosophy and the extra effort it required but were to be even more impressed by the huge care and attention given by Rob Jan and their staff when Lottie got ill. Unfortunately due to her age, Lottie had already developed an abscess on her thigh when we left her, but it had worsened considerably during her stay at Park Kennels and needed cleaning and dressing daily. Rob even took her twice to our own vet's in Sonning Common (not exactly a small trip from Wantage) to make sure she was ok and that she was given the right antibiotics by the vet that knew her and her history. This goes well beyond the usual service you would expect and we got frequent updates on her progress. Lottie was provided with nursing care not just kennel care and Rob's extensive experience and expertise with animals as a farmer really does make a difference since he is able to spot things early and get them dealt with appropriately. We feel so indebted and appreciative of the care and attention they gave to our dogs. Pets are part of our families and Park Kennels really get that and make it their business to ensure that special continuity of care in the welfare they provide for our pets. They have a new cat kennel now and if we had cats that's definitely where we would want them to be when we are away from home. Needless to say, our dogs will be returning there next time we are away but meantime, Rob and Jan, many many thanks for everything. Anthony & Yai Wrigley

---

4th Nov 2011

by Bev Moth, Oxfordshire



Relax..they Are In Safe Hands!

Hello everybody..my name is Toby and I am a Blue Roan Cocker Spaniel and I am nearly 5! I am completely loved and absolutely adored by my Mum & Dad…and everybody that meets me of course..!
One day when I was nearly 7 months old my Mum met a nice lady who recommended Park Kennels to her, they were looking for the best holiday place for me so decided to let me have a little stay…
My mummy was really upset to leave me and I know she spent a long time talking to the lovely lady called Jan who was going to look after me, and Jan made sure she knew all about me and my needs and it made my mummy smile again..
I was soooo excited..I could see some other dogs in their rooms and they looked so happy I couldn't wait to get in and try my bed out..cos after all that is the most important thing for a snoozy dog like me..
When it was time to go, Jan took me from my car and my mummy was really brave and didn't make a fuss..but I was so excited and wanted to explore that I didn't even say goodbye!! After a nice walk round the field I was taken to my room where I had a good sniff round and explored every corner and there was even a covered outside room to sit in the sun..and it wasn't long before I dragged my blanket out there and stretched out for a well deserved nap! I had such a good time on my holiday..there were walks to go on and lots of sheep to look at, really yummy food to eat and so many cuddles to give..it was fabulous and I was worn out by night time…and I thought about my Mummy and just couldn't wait to tell her about all the fun I was having !
When she came to pick me up I saw her and rushed out to give her a cuddle and a kiss and I was so excited I rushed back in…just to say goodbye to everyone and get a few more cuddles!! Jan said I was such a good boy and was welcome to stay when ever I wanted..yipppeee!!
Now whenever I go there for a holiday I get excited as soon as I see the Kennels and can't wait to get out of the car..mummy has to tell me to calm down! and after a quick goodbye I head straight out for a walk and never even notice my Mummy leaving, she is a bit sad to leave me but doesn't worry cos she knows that I am so well cared for and safe..and have plenty of cuddles! Love Toby xxx

After my first experience with Jan & Rob Beaumont at Park Kennels, I knew I would never need to look elsewhere..and never have. Everything is of high quality from the food to the level of care. They have created the perfect place for our much loved little Toby and believe me I would not trust his care with just anybody. The whole place has an air of calm professionalism that gives you the confidence and reassurance that your pet's stay will be a safe and happy one.


---

30th Sep 2011

by LIN DELNEVO, Oxfordshire



FIVE STAR LUXURY

Our four Yorkshire Terriers have recently had a wonderful holiday at Park Kennels. This is their third visit in two years. They come home happy and healthy.

The staff are extremly helpful and accommodating, friendly and professional. Our Yorkies are sometimes nervous but the staff at Park Kennels cater for smaller, nervous dogs.

The kennels are very clean, light and bright. There are always plenty of kennel staff about walking the dogs in the fields and the dogs are always very well looked after, receiving the best attention and loving care.

We highly recommend Park Kennels.

---
Fees
Fees are per dog, per day (includes any tax)
22.95 for a Small Dog
22.95 for a Medium Dog
22.95 for a Large Dog
22.95 for a Giant Dog
Further Information
Two dogs from the same family sharing one kennel £38.95.
Map, Directions, and Driving Distance & Time
Park Kennels Boarding Kennels,
Andersey Farm, Grove Park Drive, Lockinge, Wantage, Oxfordshire OX12 8SG
Directions
Contact
Bookings, Queries & Appointments
Jan will be happy to discuss your queries about Park Kennels Boarding Kennels including bookings, availability, and making an appointment to visit.

Visit our website:

www.parkkennels.co.uk

Phone Jan Beaumont
on 01235 772043

Please tell us you found us on BoardingKennels.org