| | | | |
| --- | --- | --- | --- |
| | 2013: | 2012: | |
| Unique Visitors: | 1228 | 1377 | |
| Pagehits: | 1960 | 2150 | |
| Website clicks: | 296 | 319 | |
Welcome to Cavalier Lodge

Oak Farm, Court Rd, Rollesby, Gt Yarmouth, Norwich, Norfolk NR29 5HQ
About Us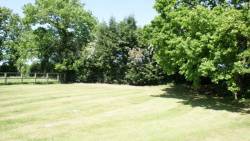 The aim of Cavalier Lodge is to provide a relaxing, quiet, caring stress free enviroment with daily routines to keep the guests contented.
A friendly, but professional, family run boarding kennels located in the Norfolk Broads. Easy to reach from The Catherdral City of Norwich or Yarmouth.
The Kennels are in two separate blocks and are of Brick and Pantiled construction.
Very spacious individual housing with most sleeping areas in excess of 40 square foot with attached roofed run areas up to 300 square foot. All units are fully tiled and heated.
Totally refurbished to very high standards in 2006. We have a 2 acre fully fenced paddock where the guests are able to run free, 2 exercise compounds, plus a further 1.5 acres where the dogs can be lead walked.

Opening Hours & Visiting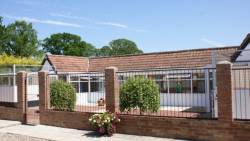 Collection and Delivery:
09:30 to 11:30
or
17:30 to 18:00
Closed for collection and delivery on bank holidays.
For the benefit of all our guests collection and delivery is limited to the above times

Staff & Knowledge
We have 5 full-time staff working in our kennels.
Our staff ratio is:
1 Staff : 5 Kennels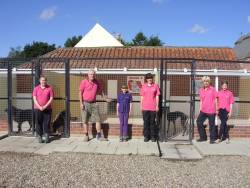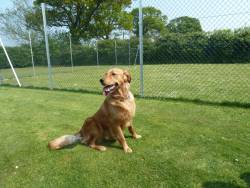 About our staff, knowledge and experience:
Karen and Trevor's passion has always been dogs of all shapes, sizes and, breeds.
We have had years of fun with our own dogs in a varity of disciplines. They have both attended a number of courses and seminers for our canine friends including The Mind Set of the Dog and Dog First Aid.
Trevor is The Field Trial Secertary of The Eastern Counties Golden Retriever Club, and organisers their Field Trials.
Gill who is an important part of the team simply loves dogs, and is happiest when exercising her charges and giving them tender loving care.
Working with us each day is Lisa, Kim, Jess, & Richard
We also have Jess, Zoe, Ashley, Hayley, Jemma who all work at least one day per week as part of their animal study courses that they study at either Norwich or GT. Yarmouth Colleges.
Our Kennels
We have
24 Kennels

with Attached runs:

Covered runs:

They were built in 2006 and are licensed for anything up to 44 dogs (maximum).


We're proudto say we have a maximum of 10 kennels in any one building.
(The ideal is a maximum of 20 kennels in a building, as the less dogs, the calmer & quieter it is)




We're proud to say we have a maximum of 10 kennels in any section of any building.
(The ideal is a maximum of 10 kennels per section)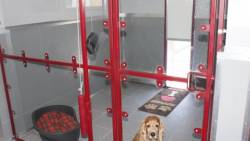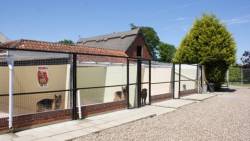 We have 3 kennel blocks.
Our Courtyard kennels designed for our smaller guests, these all have sleeping areas with a run and range in size from 57 sq ft to 101 sq ft. This allows a family of 2 small dogs to share.
We have 4 very large family units averaging in size of 78 sq ft sleeping area with a 247 sq ft attached covered run.
The rest of our kennels are above average size and can take 2 Labrador size dogs and average 40 sq ft sleeping area with up to 160 sq ft covered attached run.
About our Kennels
Our kennels are of the highest standard.
All are of room height, and are heated.
The sleeping area is fully tiled floor to ceiling, as are all the outside run floors, making it very highinic, and easy to clean.
The dividing run walls are of brickwork and again full height.

Dog Exercise & Play:
Dogs get out of their Kennels for exercise:

We're proud to say dogs DO get out of their kennels here.
We know how important it is (mentally and physically) for dogs to play, sniff, run around and stretch their legs.
In other words, for dogs to be dogs!


About dog exercise with our Boarding Kennels: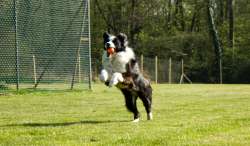 However pleasant and spacious the kennels and attached runs are nothing beats the excitement and interest generated by exercise.
We have a routine two sessions per Guest per day and, from our Courtyard units four excursions.
We recognise that kennels exercise cannot be compared to that which you do at home, so to make the day more intresting treats are given between exercise sessions.
The large individual attached runs - up to 300 sq. ft. in area - always have an availability of toys to bounce or chew!
Out of the kennels a fully enclosed paddock and two secure exercise compounds for off lead play enables us to vary activities.

Dog Walks/Exercise/Playtime with Staff:
Dogs exercised by staff:
40 minutes

of walks/exercise with staff provided daily

We're proud to say we offer walks/ exercise/ playtime WITH staff.
We know how important it is for dogs to have our company one-to-one.
It's much more fun!


About dog walks/playtime with staff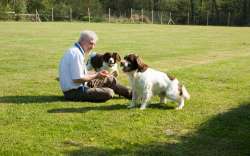 Our exercise facility's are second to none.
With 0ne large paddock (2 acre's)that is fully enclosed leading down to own private woods for off lead exercise and a further one and a half acre paddock for those customers who prefer their dogs to be lead walked, plus we have two large enclosures for the smaller/elderly guests to play off lead.
It is the most time consuming activity in the kennel routine but also one of the most rewarding - the oportunity for one to one sessions in a pleasurable environment allows Guest and Walker to bond and is one of the reasons we enjoy this business so much - even when the weather makes it wet and cold! (A warm towel rub down back in the kennel makes even the wettest of days worthwhile!!)
Dog Care
Welfare & Settling In
| | |
| --- | --- |
| Comfort items from home allowed: | DAP Therapy used: |
| We're proud to say we DO allow & encourage comfort items for dogs. We understand how important it is to help your dog relax and feel settled quickly, more at home with us. This is such an easy way to comfort your dog. After all, we all love our home comforts don't we?! | We're proud to say we DO offer D.A.P therapy here to calm and reassure dogs. We believe in doing as much as possible to help your dogs have a happy stay with us, especially when such great, positive benefits to dog welfare can be provided so easily and simply. |
Our policy on comfort items:
We are happy to have familier toys although ban 'squeakers' as a health hazard.
We are keen to see Owners bring an item of personal clothing with their scent.
Bedding items such as blankets are encouraged.
Cloth beds/duvet type items are discouraged as difficult to clean to the standard we seek.

---
Diet
Will you feed the same diet as at home:

We're proud to say we DO offer to feed your dog the same diet as at home.
We understand how important it is to help your dog settle in quickly and easily without any digestive problems that would be caused with a change of diet.

Will you feed special/prescription diets:

Will feed natural/organic diets:
---
Caring for Dogs
Care of Easy-going & Steady Dogs
All accommodation is suitable.
These guests tend to fit in to the kennel routine very easily.
Exercised at least twice a day with paddock walks.
---
Care of Active Dogs
Cavalier Lodge is perfect for the more active dog, with our large 2 acre paddock.
We use tennis ball launchers for those dogs who love the chase of a ball.
The interaction between guest and staff is vital during their exercise period, as a happy dog is a contented dog.
---
Care of Daycare/creche Dogs
Provided accommodation within our Courtyard block of eight units which enables simplified drop of and pick up minimising disturbance to our longer stay guests.
Day guests enjoy the same kennel routine.
We design arrival and departure before the morning feed and after afternoon feed.
---
Dogs with Special Needs
Separate, quiet section available:
About our care of special needs dogs: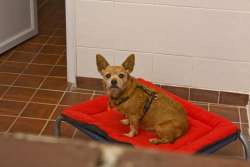 By Clients detailed briefing of actual and potential requirements.
We have a sealed unit of three kennels directly in line with the kennel kitchen which enables very close observation as this tends to be the hub of all activities.
Age considerations:
| | |
| --- | --- |
| Puppies | |
| Senior Dogs | |
| Elderly Dogs | |

We care for dogs with:
| | | | | |
| --- | --- | --- | --- | --- |
| Allergies/ Allergenic | | | Digestive Problems | |
| Arthritis/ Arthritic | | | Disabilities | |
| Blindness | | | Heart Disease | |
| Convulsions/ Seizures/ Epilepsy | | | Kidney Disease | |
| Deafness | | | Nervous/ Sensitive/ Separation anxiety | |
| Diabetes/Diabetic | | | Skin Problems | |
Services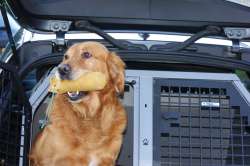 Chaffer Service:-
We are happy to collect guests at a cost of 50p per mile.
The distance traveled will be by SAT NAV.
Please book this service as soon as possible to avoid disappointment.
Grooming Lodge:-
We are happy to announce that the Grooming Lodge has opened for those guests who wants a bit of pampering.
Cavalier Pet Shop:-
June 2012 will see us open Cavalier Pet Stop, a small retail unit on site exclusive for dogs.
We are delighted to annnounce that we will stock Natural Instinct a dog food as nature intended.

| Services for Dogs: | Other Services: |
| --- | --- |
| Collect & Return, or Dog Chauffeur Service | Pet Supplies |
| Grooming Service (professional option, full bath & cut) | Cattery (Cat Boarding) |
| Hydrotherapy | Small Animals Boarding |
| Webcam Service | Stables |
| Send updates while you're away | |
7 News Articles
Latest News
---

22nd Oct 2013


PET INDUSTRY AWARDS 2013

We are pleased to announce that on October 17th 2013 at the Chesford Grange Hotel in Kenilworth we won the Pet Federation Industry award for the best boarding establishment for 2013.

The award was presented to us by Deborah Meaden of Dragons Den & Strictly come dancing fame. we are very proud to receive this presigious award.

---

8th Sep 2013


Kennel Refurb

We have Just updated our family kennel area, to make them some of the largest of their type in the UK. Each one has underfloor heating and double glazed doors, giving them that homeley feel. They are perfect for the owner of a number of dogs who want them kept together.

---

7th Sep 2013


PET INDUSTRY AWARDS 2013

We are very proud to be one of 5 kennels/catterys to be short listed for the Boarding Establishment of the year 2013. The winner will be announced in October at the Pet Industry awards in Birmingham. The entrys covers the whole of the UK.

---
7 Customer Testimonials
Customer Testimonials
Some of the things our customers love us for...
22nd Oct 2012

by Patricia Darcy, Norfolk



Luxury Stay For Dogs

I had never left my dog at kennels before and was very apprehensive when the necessity arose. I was impressed with Karen and Trevor's kindness, first of all and, after viewing the kennels, was very reassured that Millie, my dog, would be well looked after and happy. She spent the day on a trial run and a further trial staying overnight and when I collected her it was obvious that her stay had been a happy one. I wouldn't hesitate to recommend these lovely kennels and the equally lovely owners that run them.

---

28th Oct 2011

by Rebecca Stones, Hampshire



The Best Kennel I Have Seen By Far!

I was very nervous about leaving our 16 month old flat coat retriever, Jess, in a kennel for the first time. After using kennels in the South of England with our previous dogs and having such bad experiences, I had said never again.

But after researching the Cavalier Lodge we took Jess to visit. They were simply the best that we had been to by far.

The accommodation and runs were clean and well thought out. With lovely, secure spacious exercise areas, which were something that I had not seen previously in the kennels that we used. Karen and Trevor were fantastic at helping Jess settle in and could not have done more to make Jess enjoy the stay and to reassure myself that she was alright.

Jess left the lodge, clean, happy and bounding around with energy, just like when we had first left her. Clearly, she had enjoyed the attention and kindness given by Karen and Trevor, and had already grown to them.

We are looking forward to seeing them again next time we go on holiday.

Many Thanks,

Jess and Family x

---

31st Aug 2010

by Shaz Prior, Norfolk



Happy Hounds!

My 2 Lurchers (3yrs and 7 months) spent a week at Cavalier Lodge and seemed to have had a wonderful time. This was the first time both have been in kennels since being adopted from a rescue, both went off with the kennel owner with waggy tails and hardly a look back, which certainly made it easier on us. Our flight home was delayed and we got a message though to the kennels asking if they could stay an extra night, 'no problem' came the reply, which was a great relief to us. When we picked the dogs up both were very happy and in excellent condition. The kennels are light and airey, with excellent facilities. The staff are confident and calm which, I'm sure, is passed on to the dogs in their care. I have no hesitation at booking my dogs in to stay if I need to in the future.

---
Fees
Fees are per dog, per day (includes any tax)
£12.00 for a Small Dog
£12.00 for a Medium Dog
£12.00 for a Large Dog
£12.00 for a Giant Dog
Further Information
Our Hotel wing, known as The Holkham Hotel with Six Executive kennels that opened in Spring of 2012, these suites are state of the art accommodation for dogs, each room measures 2.4 meters x 2.5 meters. All rooms enjoy under floor heating and, have Perspex doors & partitions giving each room a light and spacious feel, all look out over the paddocks and woodland.
The cost of this accommodation is £15.00 a day.
The rate for a second dog staying from the same family in the same accommodation is £10.00 in both types of accommodation.
The cost's includes food, insurance, bedding & TLC
Long stay discounts available (please phone for details)
Minimum boarding charge £20.00
Day boarding (am-pm) £10.00-15.00
A 50% supplement is charged for all services provided on Christmas Day, Boxing Day, New Years Eve and, New Years Day.
Map, Directions, and Driving Distance & Time
Cavalier Lodge Boarding Kennels,
Oak Farm, Court Rd, Rollesby, Gt Yarmouth, Norwich, Norfolk NR29 5HQ
Directions
Cavalier Lodge is sighted between the City of Norwhich and Gt Yarmouth just out side the village of Rollesby.
Contact
Bookings, Queries & Appointments
Karen & Trevor will be happy to discuss your queries about Cavalier Lodge Boarding Kennels including bookings, availability, and making an appointment to visit.

Visit our website:

www.cavalierlodgekennels.co.uk

Phone Karen & Trevor Souster
on 01493 369669

Please tell us you found us on BoardingKennels.org