| | 2017 | 2016 | 2015: |
| --- | --- | --- | --- |
| Pagehits: | 1527 | 2286 | 2231 |
| Website clicks: | 1 | 283 | 315 |
Welcome to Browngates Boarding Kennels & Cattery

Browngates Bungalow, Ashbocking Road, Swilland, Ipswich, Suffolk IP6 9LJ
About Us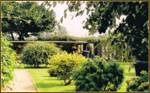 Browngates Boarding Kennels & Cattery is a fully licensed/insured, family-run business. We have been established for over 20 years on the outskirts of Ipswich in the beautiful Suffolk countryside.
The main aim of our small, highly professional team is to make your pets feel as at home as possible. If you are a new customer we strongly recommend a visit to have a look around our superb kennels/cattery - see what makes Browngates stand out from the rest! As long as your visit is within our opening hours no appointment is necessary.
A good high quality range of food is held in stock and we will endeavor to feed your pet(s) the same diet they receive at home. If we do not hold the variety your pet normally eats (or they are on a special diet/under 12 months of age) we would ask owners to supply enough for the duration of their stay. We are happy to administer any medication (including injections) as required - this is a complementary service.

Opening Hours & Visiting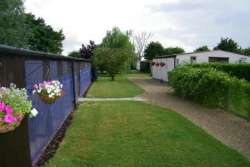 Mon, Tues, Thurs & Fri 8.30am - 5.30pm
Weds - 8:30am - Midday
Sat 9am - Midday
Sun - 10.00am - 12.00pm
NO APPOINTMENT NECESSARY - PLEASE VISIT

Staff & Knowledge
We have 4 full-time staff working in our kennels.
Our staff ratio is:
1 Staff : 9 Kennels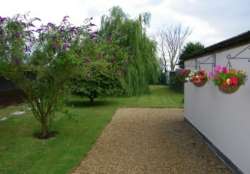 About our staff, knowledge and experience:
Our staff have extensive knowledge of the kennel enviorment.
Our head kennel maid has been with Browngates for over 15years.
Our Kennels
We have
34 Kennels

with Attached runs:

Covered runs:

They were built in 1980 and are licensed for anything up to 70 dogs (maximum).


We're proudto say we have a maximum of 11 kennels in any one building.
(The ideal is a maximum of 20 kennels in a building, as the less dogs, the calmer & quieter it is)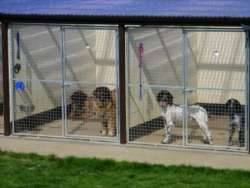 About our Kennels
Browngates is an extremely social environment for your beloved dog. The kennels are purposefully designed in a horseshoe shape so all the dogs can see each other and, therefore, not feel alone.
Every Kennel has its own cosy sleeping quarters (which are heated when it's cold) and an individual run which is fully roofed - so even in bad weather your dog has the choice of being inside or out. Bedding is provided but you are welcome to bring your own.
We have four large family kennels which can hold up to four dogs, these are extremely popular so book early to avoid disappointment.

Dog Exercise & Play:
Dogs get out of their Kennels for exercise:

We're proud to say dogs DO get out of their kennels here.
We know how important it is (mentally and physically) for dogs to play, sniff, run around and stretch their legs.
In other words, for dogs to be dogs!


About dog exercise with our Boarding Kennels: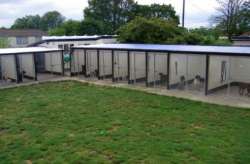 In addition to the kennels and individual runs we have a secure closed exercise area where your dog can have fun with balls, toys etc. off their lead. Whilst your dog is boarded they will have a minimum of two exercise sessions a day.
We also walk dogs (on lead) around the grounds.
Whilst your dog(s) is boarded they will have a minimum of two exercise sessions a day.
No dog is left unattended or exercised with other dogs (unless from the same family), there is always a member of staff on the premises.

Dog Walks/Exercise/Playtime with Staff:
Dogs exercised by staff:
20 minutes

of walks/exercise with staff provided daily

We're proud to say we offer walks/ exercise/ playtime WITH staff.
We know how important it is for dogs to have our company one-to-one.
It's much more fun!


About dog walks/playtime with staff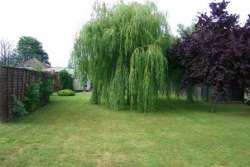 All dogs are walked on the lead within our grounds
Dog Care
Welfare & Settling In
| | |
| --- | --- |
| Comfort items from home allowed: | DAP Therapy used: |
| We're proud to say we DO allow & encourage comfort items for dogs. We understand how important it is to help your dog relax and feel settled quickly, more at home with us. This is such an easy way to comfort your dog. After all, we all love our home comforts don't we?! | We're proud to say we DO offer D.A.P therapy here to calm and reassure dogs. We believe in doing as much as possible to help your dogs have a happy stay with us, especially when such great, positive benefits to dog welfare can be provided so easily and simply. |
Our policy on comfort items: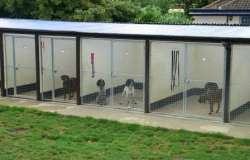 Bedding is provided but you are welcome to bring your own. Toys are also welcome

---
Diet
Will you feed the same diet as at home:

We're proud to say we DO offer to feed your dog the same diet as at home.
We understand how important it is to help your dog settle in quickly and easily without any digestive problems that would be caused with a change of diet.

Will you feed special/prescription diets:

Will feed natural/organic diets:
---
Caring for Dogs
Care of Easy-going & Steady Dogs
We are open to discussing your dogs requirements with us.
---
Care of Active Dogs
We are open to discussing your dogs requirements with us.
---
Care of Daycare/creche Dogs
---
Dogs with Special Needs
Separate, quiet section available:
About our care of special needs dogs:

Age considerations:
| | |
| --- | --- |
| Puppies | |
| Senior Dogs | |
| Elderly Dogs | |

We care for dogs with:
| | | | | |
| --- | --- | --- | --- | --- |
| Allergies/ Allergenic | | | Digestive Problems | |
| Arthritis/ Arthritic | | | Disabilities | |
| Blindness | | | Heart Disease | |
| Convulsions/ Seizures/ Epilepsy | | | Kidney Disease | |
| Deafness | | | Nervous/ Sensitive/ Separation anxiety | |
| Diabetes/Diabetic | | | Skin Problems | |
Services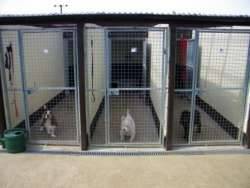 Grooming:
Why not take advantage of our full, competitively priced, grooming service whilst your dog(s) is boarding at browngates.
Our experienced staff will do hand/clipper trims, mini tidy-ups, baths, de-matting and cutting of nails all to your specific requirements.
Shop:
We stock a wide range of dog/cat food plus treats, toys and much more at competitive prices.
Collection and Deliveries:
For a minimal charge we will collect and deliver your dog/cat.
The Cattery:
Our cat accommodation has been built with the cat's requirements in mind. As cat owners will know, sometimes cats like attention, sometimes they don't!
Each cat at Browngates has a generous play area, covered from the weather but open to the fresh air, from which they can look out at the gardens or play with their toys. If they feel like a sleep, they can enter their private sleeping hut and snuggle down on their bed away from prying eyes. We provide bedding and toys however customers are welcome to provide their own.
Medication will be given at no additional charge - we ask customers to clearly state doses/frequency.
Although our cat boarders have no contact with other cats, the dividing clear walls between chalets allow a sight of their cat neighbours, which is comforting. The cattery is attached to our main reception and is kept locked at all times. No one is allowed in without a member of staff.

| Services for Dogs: | Other Services: |
| --- | --- |
| Collect & Return, or Dog Chauffeur Service | Pet Supplies |
| Grooming Service (professional option, full bath & cut) | Cattery (Cat Boarding) |
| Hydrotherapy | Small Animals Boarding |
| Webcam Service | Stables |
| Send updates while you're away | |
0 News Articles
Latest News
4 Customer Testimonials
Customer Testimonials
Some of the things our customers love us for...
15th Feb 2011

by Bryan Hall, Suffolk



Daxies Delight

WE have been using Browngates Kennels for over 15 years and could not be more happy with the way Chris,Sarah & Loraine look after our 3 Dachshunds(Standard & Mini) The dogs oviously enjoy themselves as they get very excited when taken to the kennels. They always come home clean,calm and well fed after their holidays. Bryan & Margaret Hall.

---

12th Jan 2011

by Jan Sadler, Suffolk



Fantastic Service

I have been taking my West Highland Terrier to Browngates Boarding Kennels since she was a puppy and have been delighted with the care and attention she receives. She has a fantastic time and is always keen to go into the kennels and is always very bouncy and happy on collection. The staff are very friendly and helpful and the kennels are spacious and very clean, and set in nice open surroundings, and the dogs can see each other, making it a very social stay for them. I was very worried initially about using kennels having never used one before but after going to view several in Suffolk found Browngates to be the best I had seen. I called in without an appointment and was delighted with what I saw. Nothing is too much trouble for Chris and his team, and after discussing the needs of my very young puppy and my concerns, they suggested that I board her for a short time initially to make sure she was OK, and I have never looked back as she loved it. I have been using Browngates to board my Westie for over 3 years and I know that whenever I need to leave her she will be well cared for and most importantly happy. I have no hesitation in recommending Browngates Boarding Kennels.

---

24th Jan 2009

by Andy Gatenby, Suffolk



Trainee Guide Dogs For The Blind Boarded At Browngates

Guide Dogs for the Blind have been successfully boarding dogs in advanced training at Browngates since July 2008. An appropriate kennel environment is critical to the success of the specialist training programme that these dogs undergo. Browngates have to met a nationally established criteria and have been visited and approved by our Dog Care & Welfare team. Key factors in deciding to work with Browngates are: low noise levels, spacious accommodation, reasonable fees, all-day opening, minimal overnight 'shut-down' period, run by owners who live on-site, experienced staff and, most importantly, a flexible, helpful and knowledgable approach to dog care and welfare.

---
Fees
Fees are per dog, per day (includes any tax)
12.50 for a Small Dog
13.25 for a Medium Dog
14.00 for a Large Dog
15.00 for a Giant Dog
Further Information
Discounts available for two or more sharing
Large discounts available on long term boarders - we are specialists in long term boarding having had dogs board for periods of three, six, nine and eighteen months.
Map, Directions, and Driving Distance & Time
Browngates Boarding Kennels & Cattery Boarding Kennels,
Browngates Bungalow, Ashbocking Road, Swilland, Ipswich, Suffolk IP6 9LJ
Directions
- from Ipswich
Take the B1077 through Westerfield & then Witnesham.
At Ashbocking crossroads turn right (at Elmy Landscapes) towards Otley College.
Browngates is 400 yds on the right.
- from Woodbridge
From Wyevale's roundabout head towards Grundisburgh,
follow the road to Otley.
Turn left onto the B1078, pass Otley College.
Browngates is 800 yds on the left.
- from Stowmarket
Eastbound A14; Leave at the A140 junc signposted Norwich / Diss.
Take the first right towards Coddenham (B1078),
go through Coddengham village,
then past Hemingstone garage and Swiss Farm.
Follow the road round a sharp left bend and into a long straight section.
Browngates is approx 900 yds on the right after Elmy Landscapes crossroads
Contact
Bookings, Queries & Appointments
Chris will be happy to discuss your queries about Browngates Boarding Kennels & Cattery Boarding Kennels including bookings, availability, and making an appointment to visit.

Visit our website:

www.browngates.co.uk

Phone Chris Risby
on 01473 785540

Please tell us you found us on BoardingKennels.org